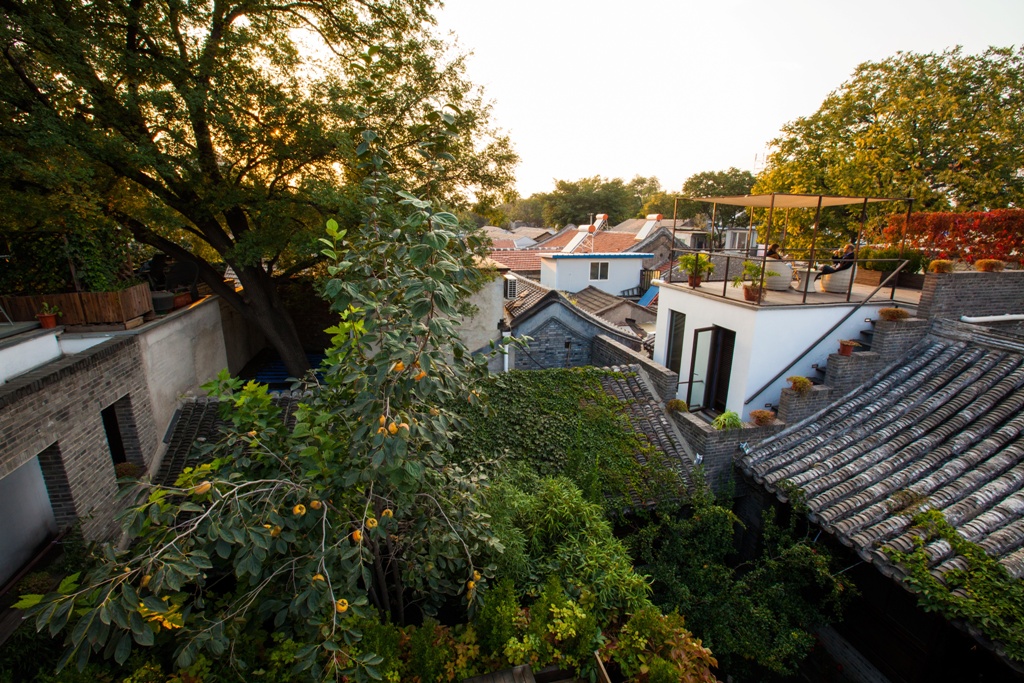 Basking in the Sun Part 1: Beijing's Best Patios, Courtyards, and Rooftops
The season we have been dreaming about is finally here: It's time to grab your friends, and head to one of these rooftops, patios, and courtyards for a day of unfettered eating, drinking, and relaxation.
READ: Basking in the Sun Part 2: Where to Appreciate Beijing Summer
Key
$ = under RMB 100 per person
$$ = RMB 100-200 per person
$$$ = over RMB 200 per person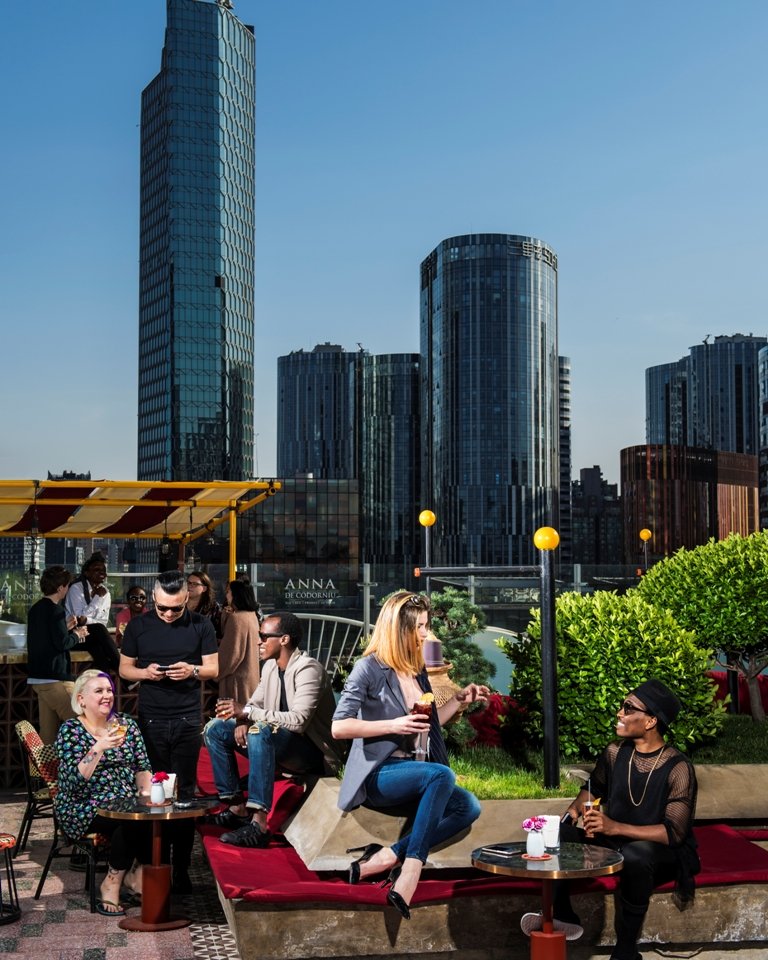 Migas

Everyone's favorite rooftop bar, and the venue for this month's cover shoot, Migas is somewhat of a Beijing institution, sporting incredible views over Sanlitun and dance parties that run well into the morning. We recommend heading over for drinks just before sunset, a simple venture that will likely end in you staying for the rest of the night, hooked by summery tunes spun by some of the best local and international DJs. Migas is also where you'll find Beijing's most beautiful crowd, although unfortunately they're sometimes far too aware of that fact.
Best for: Dancing and cocktails with a Sanlitun view
Address: 6/F, Nali Patio, 81 Sanlitun Lu, Chaoyang District (5208 6061)
朝阳区三里屯路81号那里花园6层
Price range: $$
Palms LA (Liangmaqiao
)
A first in Beijing, the menu at Palms LA is a Korean-meets-Mexican culinary mash-up, full of spice and fiery flavors that will leave you begging for more. Their second location at Liangmaqiao has a great patio for outdoor dining and boozing, especially with friends. Come in a group of six to eight and order one of everything on the menu, including the drinks, Palms LA being one of those special venues where the food and drinks were created equal.

Best for: Group dining and drinking
Address: 102, Bldg D, Yuanyang Xinganxian, 66 Xiaguang Li, Chaoyang District (8446 7565)
朝阳区霞光里66号院远洋新干线D座102
Price range: $$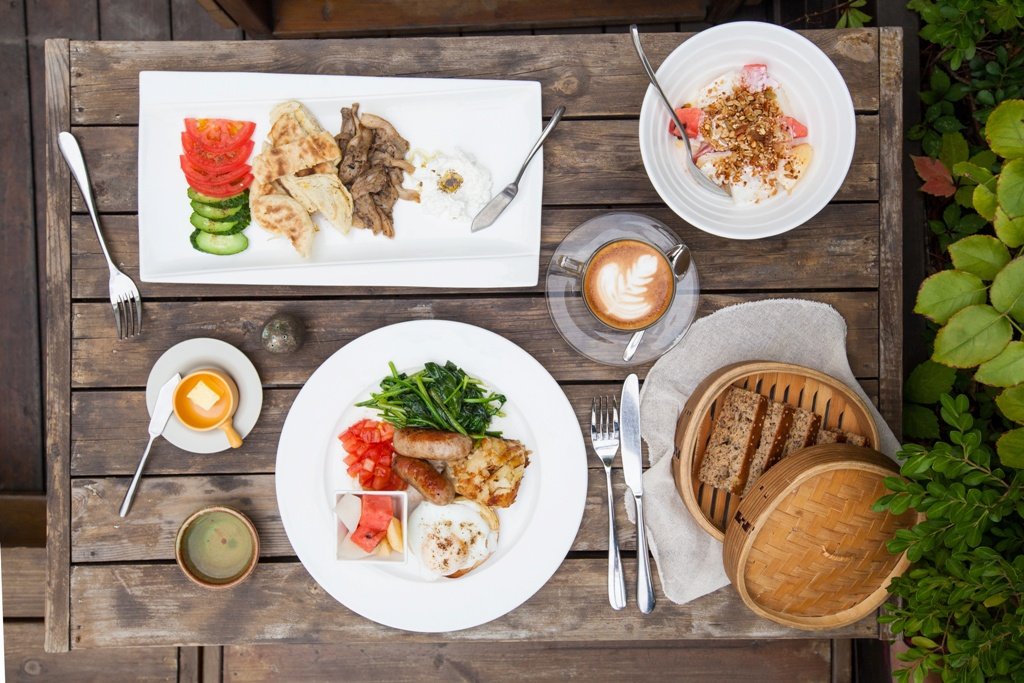 Toast
If you dream of having brunch every day of the week, head to Toast's rooftop at The Orchid. The terrace features pleasant views over the nearby hutong roofs, which weave together as far as the eye can see. The menu is Middle Eastern-inspired, using local Beijing ingredients where possible. The kitchen is open for breakfast, lunch, and dinner, and we suggest you arrive early for each as the terrace fills up quickly on clear days.
Best for: All-week brunch
Address: 65 Baochao Hutong, Gulou Dongdajie, Dongcheng District (8565 9295)
东城区鼓楼东大街宝钞胡同65号
Price range: $$
Napa
Serving up fresh, sizable salads and healthy sandwiches, Californian-run Napa's rooftop is worthy of lunches (if you are lucky enough to work in the area), dinners, and weekend dining. Ingredients are locally sourced and organic, and the wine list features organic options, guaranteeing plenty of good, clean, tipsy fun.
Best for: Fresh salads and organic wines
Address: 20 Liulitun Zhonglu, Chaoyang District (6595 9181)
朝阳区六里屯中路20号
Price range: $$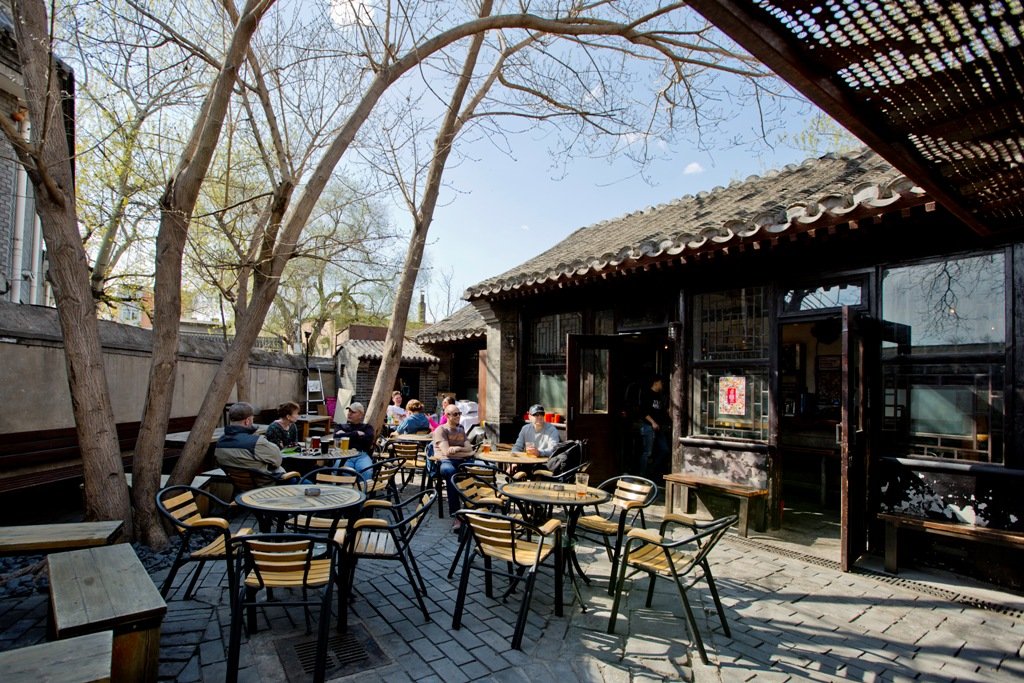 Great Leap Brewing #6
The several tables filling the courtyard of GLB's original Doujiao Hutong venue make this all-year-round al fresco bar a spot that brings people together, not only for its micro-brews, but also its charming Beijing hutong vibes. The only downside is that it doesn't have a food menu, but that doesn't stop you from ordering chuan'r from the Xinjiang restaurant nearby for a somewhat surreal Beijing craft brew and barbecue experience. Either way, beer counts as a meal right?
Best for: Beijing-brewed craft beer
Address: 6 Doujiao Hutong, Dongcheng District (5717 1399)
东城区豆角胡同6号
Price range: $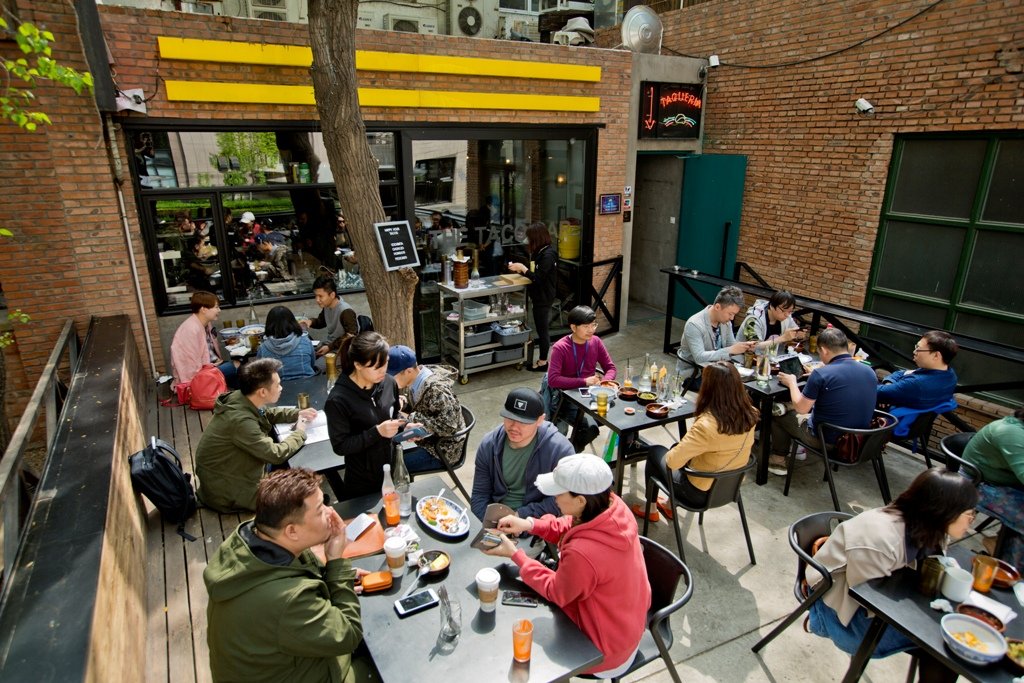 Taco Bar
It's not an eloquent patio with a captivating view or a mind-blowing design, but that's the appeal of Taco Bar's no-frills, front porch vibe. Considering the restaurant's location at Courtyard 4, the epicenter of all things fun in Sanlitun, its outdoor seating is prime for people-watching and acts as a hub for the neighborhood's overall celebratory summer vibes. And while Taco Bar has won numerous Restaurant Awards for its excellent Mexican eats, the bar's criminally underrated cocktail menu will leave you feeling woozy and breezy as you kick back on this fun, unpretentious outdoor dining haven.
Best for: Casual yet creative dining and drinking
Address: 10, Courtyard 4, Nan Sanlitun Lu, Chaoyang District (6501 6026)
朝阳区机电院10号南三里屯路
Price range: $$
Capital M
Overlooking the majestic Qianmen gate in the south side of the city, this international chain specializes in dining with a view, a formula that doesn't disappoint at its Beijing incarnation. True, Capital M may not have the same dazzle factor as it did when it first opened in 2009, but the Mediterranean-style dishes and well-trained staff still make for a solid dining option, especially when you have the sunshine to match.
Best for: International dining standards
Address: 3/F, 2 Qianmen Buxingjie, Dongcheng District (6702 2727)
东城区前门步行街2号3层
Price range: $$$
The Roof & Unico
The Roof bags the Topwin Center's most coveted spot as well as the complex's least original name, a fitting motif as you overlook the south side of Sanlitun among the area's young elite. However, there's no doubt that The Roof, with its horizon-dissecting waterways, umbrellas and turf, and waiters decked out in all-white, makes for a fine spot for a cocktail, a serene evening with a hookah, or even a bowl full of oysters. You get the idea.
Best for: Feeling like you have more money than you actually do
Address: Unit 567, 5/F, Topwin Center, 1 Nan Sanlitun Lu, Chaoyang District (5718 1999)
朝阳区南三里屯路1号通盈中心5层567室
Price range: $$$
Paulaner Brauhaus
Relaxing, spacious, and sunny are merely a few of the terms that suit this Liangmaqiao gem. Those light and bright vibes can be attributed to the refreshing lack of foreboding buildings when compared to other central Beijing haunts. That, along with the abundantly lush greenery and the friendly staff, dressed in traditional Bavarian uniforms, help patrons feel like they've been transported to a warm and inviting German hamlet. The brewed-on-site pints and beer garden make it appealing for lazy summer day drinking.
Best for: Lazy steins
Address: 1/F, Kempinski Hotel, 50 Liangmaqiao Lu, Chaoyang District (6465 3388 ext 4212)
朝阳区亮马桥路50号凯宾斯基酒店1层
Price range: $$
Mojo
This recently opened Gongti restaurant boasts an upscale menu, 1,500 varieties of wine, and a subtly sleek decor. The latter makes us eagerly anticipate the May opening of its 600sqm outdoor seating area, which is sure to have a chic ambiance and a beautiful view thanks to its second floor perch overlooking the southwest of Sanlitun. The refined eats are bound to complement this setting, featuring foie gras and duck stuffed ravioli, iberico pork cheek, duck confit, Napoli-style pizzas, and oysters. They also have an excellent pastry chef on staff who readies a range of tasty desserts. You'd be hard-pressed to find a trendier terrace this summer.
Best for: Impressing that special someone
Address: 150m south of Gongti East Gate, Chaoyang District (151 0158 3880)
朝阳区工体东门(南侧150米)
Price range: $$$
Read part two of our ultimate Beijing summer hangouts here.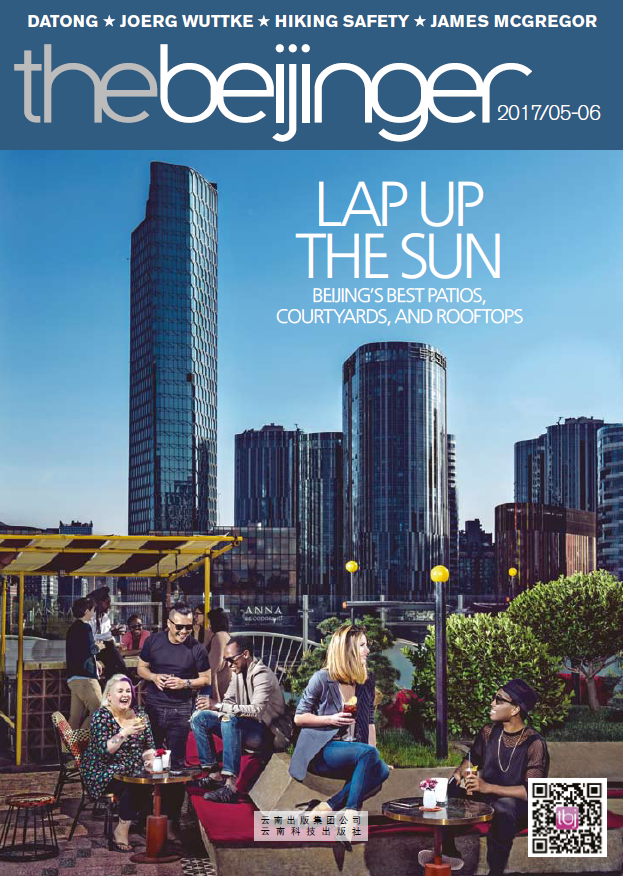 Photos courtesy of Toast, Dave's Studio, Uni You
Comments