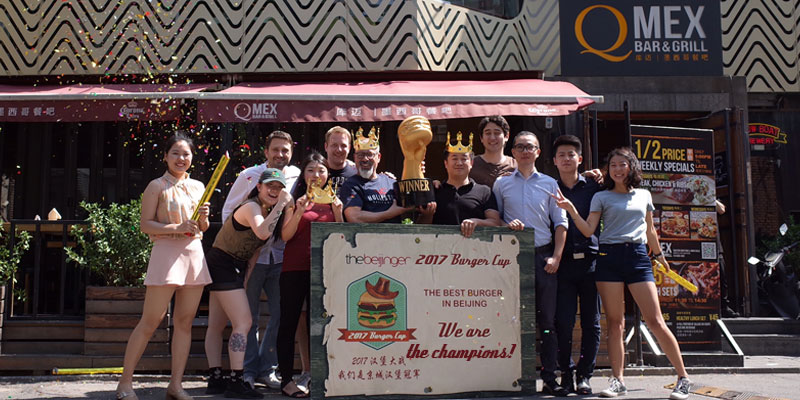 You Voted: Q Mex Crowned Beijing's Best Burger After Six Weeks of Battle in the Beijinger's 2017 Burger Cup
Q Mex have done it! They have won 2017's Burger Cup, beating Cannon's Burgers in an epic battle decided by a mere handful of votes.
After claiming second spot in our 2016 Burger Cup rankings, the Courtyard 4 favorite clambered over 102 competitors to snatch the Beijing Best Burger crown from two-time champ and now Sanlitun neighbor Slow Boat Brewery.
On their way to the top, Q Mex slipped past VSports, squished Katchup, took away Fatboy's lunch money, then eliminated last year's champ Slow boat before finally squeaking by dark horse Cannon's Burger to take their much-deserved spot at the top.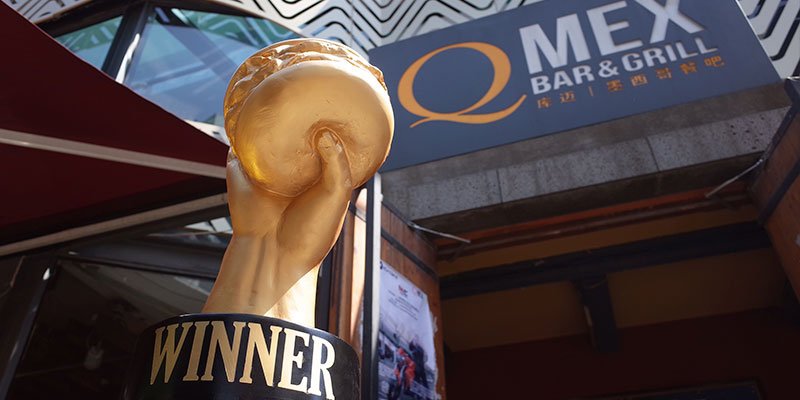 Though known most for their Mexican-centric menu, Q Mex have gone beyond what most of us would consider standard fare from the region by tapping into the broad repertoire of Mexican executive chef Marcus Medina, who has added a number of excellent burgers and pizzas to the list. When coupled with a strong drinks menu and various happy hours throughout the week, Q Mex has slowly become one of Courtyard 4's busiest spots for a post-work retreat.
Elsewhere, it was Great Leap that claimed third place, narrowly pipping Slow Boat to the meaty post.
So, to refresh, after a six-week battle we now have the full rankings of all 102 burger competitors – and you've got a year to try to eat them all. It's not like you need a lot of additional encouragement: our average voter consumed two burgers a week for the entire duration of the Burger Cup, which means that an average of 12 burgers were scarfed down per voter over the past six weeks. Give yourself 52 weeks and a diligent foodie could easily eat their way through all 100.
Though a plurality of voters needed no excuse to scarf down another burger, those that withered at the idea cited diet and fitness as their top reason for not eating more (23 percent of respondents). Another 8 percent said that they're currently saving money on dining out, while 7 percent said their doctor recommended they cut their red meat intake to reduce cholesterol.
Suffice to say, it is apparent that Beijingers are much more burger savvy after eating their way through our sixth annual Burger Cup. Ninety-two percent of respondents report that they've learned about new burger places that they hadn't previously heard of, and the vast majority – 81 percent – actually went out and tried a burger place they had not tried before.
But it's not just newbies that felt the love for the Cup – 70 percent confess to having eaten their favorite burgers more than usual, and 68 percent claim to have eaten more burgers than they would have during a normal non-Burger Cup time. It's been a good exercise for the city's breweries too, with 62 percent of people also reporting that they accompanied this burger orgy with more beer than they typically drink.
Finally, all this bun-chomping has changed hearts and minds: 68 percent report that they have changed their opinion on their favorite burger in Beijing as a consequence. Hence we now have a new overall winner – Q Mex – who inherit a crown previously held for two years by Slow Boat. Here, in all their glory, are all of our previous winners:
2011: Blue Frog
2012: Home Plate
2013: Home Plate
2014: Home Plate
2015: Slow Boat
2016: Slow Boat
2017: Q Mex
Despite Q Mex's ultimate victory, the true success story of this year's Burger Cup was the rise of Cannon's. The then-new Gaobeidian eatery debuted in last year's Burger Cup at #74. Buoyed by their successful appearance at the Burger Festival, Cannon's skyrocketed all the way to second place this year, even coming within a hair's breadth of the title. It couldn't come at a better time for the American-run burger joint, marking the not-so-distant-opening of their second location, this time in the much more expatty Xingfucun (look for it later this month).
Cannon's was by no means the only Cinderella story of the 2017 Cup – several other venues made impressive gains over their 2016 showings.
North Capital rose 69 places over their #85 ranking last year to end up at #16, in no small part due to their attendance at the Burger Fest. Caravan rose 47 places from #69 to #22 on the back of their spicy appearance at the entrance to this year's fest. XL Bar, formerly ranked #67, rose 41 spots to end at #26, and Burger Break
 went from #52 to #20, a jump of 32 slots.
While we had your attention, we also asked you which neighborhoods you usually head to for food, and this is what you responded:
1. Sanlitun – 37.4 percent
2. Gulou – 13.0 percent
3. Chaoyang Park – 12.7 percent
4. Guomao – 8.1 percent
5. Shuangjing – 6.6 percent
6. Wangjing – 6.4 percent
7. Wudaokou – 6.0 percent
8. Qianmen – 5.5 percent
9. Shunyi – 2.3 percent
10. Other – 1.9 percent
Below is our complete ranking of Beijing's best burgers in 2017 right through to 102 (asterisks indicate venue is currently remodeling, in the process of opening, or in the process of adding burgers served at the 2017 Burger Fest to their menus):
(numbers in brackets are the venue's standing in last year's Burger Cup)
1. Q Mex (2)
2. Cannon's Burgers (74)
3. Great Leap (3)
4. Slow Boat (1)
5. Home Plate BBQ (9)
6. The Local (10)
7. Fatboy's (7)
8. Plan B (8)
9. Blue Frog (5)
10. Jing-A (13)
11. Katchup (11)
12. The Big Smoke (17)
13. Lily's American Diner (22)
14. Biteapitta (25)
15. Let's Burger (12)
16. North Capital (85)
17. Stuff'd (20)
18. 4corners (18)
19. Tim's Texas Bar-B-Q (21)
20. Burger Break (52)
21. Paddy O'Shea's (33)
22. Caravan (69)
23. Feast (4)
24. Grandma's Kitchen (48)
25. Lush (19)
26. XL Bar (67)
27. High Town (New)
28. Ramo (35)
29. Morton's of Chicago (17)
30. Kenny's Burgers (31)
31. 1F (39)
32. VSports Bar and Restaurant (58)
33. *Common Burger (New)
34. Luga's Villa (15)
35. 8-Bit (37)
36. Andy's Craft Sausages (New)
37. *Panda Brew (New)
38. Nola (38)
39. Dirty Duck (New)
40. Bistrot B (34)
41. Laker's (51)
42. *Punjabi (New)
43. Regain Element (New)
44. Molly Malone's (New)
45. Beer Mania (44)
46. Grinders (55)
47. Peter's Tex-Mex (50)
48. Waspark (80)
49. Blue Marlin (36)
50. Veggie Table (68)
51. *Frost Coffee, Cocktails and Dining (23)
52. Village Cafe, Opposite House (46)
53. Irish Volunteer (66)
54. Drunk Craft Beer & Restaurant (29)
55. Burger Counter (56)
56. Café Flatwhite (14)
57. He Kitchen (47)
58. Eudora Station (57)
59. The Bookworm (65)
60. Tiger Pancake House (New)
61. Uburgers (New)
62. NBeer Pub (New)
63. Dongli Brewery (60)
64. Chat Room (30)
65. Steamrhino Brewery Restaurant (New)
66. The Granary Bar & Bistro (New)
67. Hungry Horse (73)
68. Park Side Bar & Grill (59)
69. Old Bike Café (94)
70. Four Ace (New)
71. Beersmith Gastropub (New)
72. The Cut, Fairmont Beijing (53)
73. Ahava Bistro and Cafe (16)
74. Buddy Bar (New)
75. The Kitchen Table, W Beijing Chang'an (86)
76. *Root Pop (New)
77. Balmain Gourmet Meat & Grill (New)
78. Fella's (New)
79. Bunny Drop (43)
80. *Mr. Charcoal (New)
81. Nasca Café (40)
82. City Wall Bistro, Marriott (New)
83. The Garage (49)
84. Nanluo Big Burger (97)
85. O'Leary's (New)
86. Landmark Café (93)
87. Renaissance Beijing Wangfujing Hotel Food Studio (78)
88. MustGuette (87)
89. Paulaner Maximilian (64)
90. Bobo (New)
91. Rolling Rolling Craft Brewing (84)
92. Park Square (71)
93. Yuppie Yummy (61)
94. Galleria (New)
95. Fuel, Langham Place (96)
96. Windy City (76)
97. Hub Kitchen (91)
98. Angel Burger (70)
99. Craft, Crowne Plaza Lido (82)
100. Steak Exchange, InterContinental Hotel (88)
101. Loft Eatalicious (32)
102. Pentalounge, Penta Hotel (95)
Until next time, we'll be locked away trying to shed the extra pounds, failing that we'll see you in any one of the city's excellent (and growing) burger parlors!
More stories by this author here.
Email: margauxschreurs@truerun.com
Instagram: s.xuagram
Images: Uni You
Comments