Why You Should Carry Your Passport When You Go Out This Weekend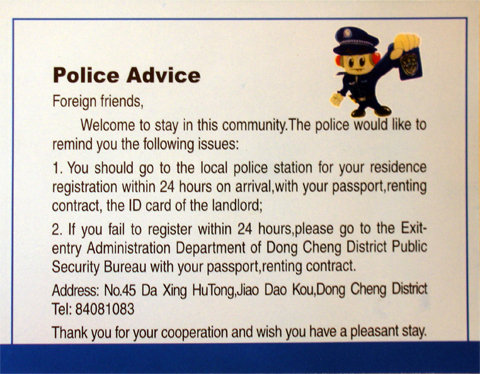 Wallet, check. Keys, check. Money, check. Passport...check that one off too.
With March beginning tomorrow, it's time again for the annual Beijing event known as the "Two Meetings" or liang hui. Both the China People's Political Consultative Conference, which starts March 3, and the National People's Congress (NPC), which opens March 5, will bring heightened security to the capital to ensure the two most important national political meetings of the year go off without a hitch. All the excitement dies down around March 10 when the NPC, China's parliament, adjourns.
As we learned the hard way last year when certain individuals decided to do dumb things like run their motor scooter into a pedestrian, thus triggering a harder look at foreigners and especially their visas, the time of  hanging around in China and not be on the legit is over.
All foreigners are required by law to carry their passports at all times. Sometimes a photocopy of the passport's main information page and the page bearing the person's visa will be accepted, but officially foreigners are required to bear the original document on their person at all times.
Case in point: the most recent meeting of Beijing Creatives, held on February 18, received a surprise: a visit by local police, as reported by Beijing Cream. While it seems they were checking host venue Dada's licensing and fire equipment, they also did some credential checks of attendees. The Public Security Bureau (PSB) is authorized to check anyone's identification papers at anytime, and "it's at my apartment" doesn't count.
We offered these three pieces of advice in December and we'll offer them again:
1. If you don't have a driver's license, stop driving and get one. The penalty for driving (an automobile) in China without a license is 15 days in jail.
2. If your vehicle is unregistered, stop driving and get one.
3. If you are working illegally, go on strike until your employer gives you the proper paperwork. The penalty for working illegally in China is deportation.
If you are asked for identification, be nice and cooperate. If your visa and household registration are up to date, then the inspection should end quickly. If not, then this might be a good weekend to stay home and watch DVDs.
Photo: Iambo.com
Comments